Will DaVinci Teeth Whitening work on crowns and fillings?
Yes, DaVinci teeth whitening will remove staining from existing dental work and take it back to the original color. Our goal is to clean up the existing dental work and whiten the natural teeth to match for a nice even smile. We cannot whiten them beyond the original color of the material used at the time of placement. If your existing dental work is not in your smile line it won't matter either way because it is not visible.
Did You Know?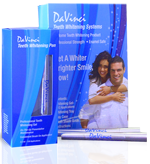 Our home-use products are safe and in just a few minutes they allow you to keep your bright smile for a long time.
We're looking for service providers
Contact us to learn more about how you can become part of our network.
Customer Testimonials
I got my teeth whitening done at the Parker Office. Very professional and great customer service. I love my teeth and I like to keep them white. Thanks Davinci for your great products and service. I refer you to all my friends and family.
Derrik J.
Customer Testimonials
I tried for years to whiten my teeth but was always told it would damage my vaneer. I was excited to find DaVinci and was extremely pleased with my results. My real teeth went from a 7 to a -1 and my Vaneer went from a 3 to a -1. I can't help but smile all the time! thank you DaVinci!!
Terra L.