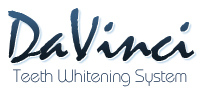 About DaVinci Brite White
Naturally The Best
DaVinci Brite White's Laser Teeth Whitening Methods
Our Method and Service
Three Step Process
Our in-chair whitening is a 3 step process
1. The all-natural whitening gel is applied to the upper and lower arch of teeth
2. The LED blue light is positioned to the mouth to accelerate the whitening gel
3. Rinse and see your results
* Average shade improvement is 5 to 14 shades whiter
DaVinci is a USA-based comapny that has been trusted by dentists, professionals, and consumers for effectiveness and quality since 1999. Unlike other companies, we develop and manufacture our own products using only the finest ingredients in our whitening gels.
* FAST AND EFFECTIVE
* IMMEDIATE RESULTS
* ENAMEL STRENGTHENING QUALITIES
* NATURAL, PLANT AND MINERAL BASED PRODUCTS
Before shade level was 9. After shade level -1
In about an hour, this DaVinci Bright White's improved this client's teeth 10 shades.
Customer Testimonials
I got my teeth whitening done at your office. Very professional and great customer service. I love my teeth and I like to keep them white. Thanks Davinci for your great products and service. I refer you to all my friends and family.
Derrik J.
Customer Testimonials
I tried for years to whiten my teeth but was always told it would damage my veneer. I was excited to find DaVinci and was extremely pleased with my results. My real teeth went from a 7 to a -1 and my Vaneer went from a 3 to a -1. I can't help but smile all the time! thank you DaVinci!!
Terra L.